Massage therapy is a natural, enjoyable and fairly inexpensive way to begin a health maintenance program. By releasing chronic tension, massage therapy can help to treat many illnesses, including headaches, indigestion, arthritis, ulcers and constipation. It can also help prevent injuries, improve mobility and accelerate recovery from an injury.
Massage therapy increases blood circulation, which can help relieve pain. It stimulates lymph flow to help your body filter out toxins and waste. Massage therapy can also help increase metabolism and contributes to tissue health, allowing for faster recovery from an injury and/or fatigue. Overall, massage therapy promotes a feeling of physical, mental and emotional well-being.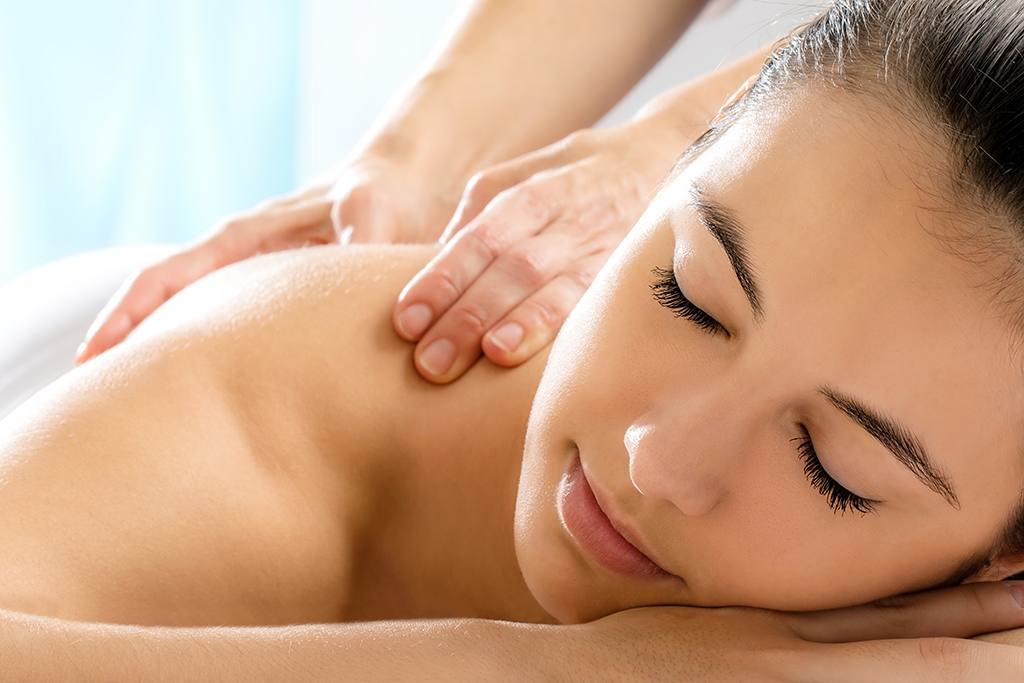 Swedish Massage
This is the most common type of massage. It includes long, fluid strokes used to relieve muscle tension and improve circulation. Lotions or oils are typically used to reduce friction and soothe the skin. This technique will ease you into relaxation, increase the oxygen level in your blood, improve your circulation and flexibility and relieve stress throughout your entire body.
30 Minutes $50
45 Minutes $70
60 Minutes $80
75 Minutes $95
90 Minutes $115
120 Minutes $150
Treatment Series Packages: 
Buy (9) 60 or 90 Minute Swedish Massages at Once and Get the 10th Free!
Deep Tissue Massage
A Deep Tissue Massage is very similar to a Swedish Massage, but targets specific tight or sore spots making it an overall workout for the body. One difference in this massage technique is that your therapist will use massage strokes across the grain of the muscle instead of with the grain to work out knots or tension in the muscle tissue.
30 Minutes $55
45 Minute $75
60 Minutes $95
75 Minutes $115
90 Minutes $135
Treatment Series Packages:
Buy (9) 60 or 90 Minute Deep Tissue Massages at Once and Get the 10th Free!
Note:
Because this massage uses more pressure on tense muscles, it may be slightly uncomfortable and can cause soreness that may last a couple of days before desired relief is achieved.
Prenatal Massage
During pregnancy, your body undergoes significant transformations, especially to the circulatory, glandular, muscular and skeletal systems. Massage can provide a drug-free form of pain relief benefiting expecting mothers during the different stages of the pregnancy. Some common benefits include relief from headaches, backaches and muscular cramps while reducing swelling (edema) and overall fatigue.
Our Therapists utilize special bolsters to securely support you and your baby during the massage. Lotions and essential oils are also incorporated to enhance the overall experience with comfort and safety in mind. Both you and your baby will benefit from this specialized massage.
30 Minutes $55
60 Minutes $85
90 Minutes $120
Note:
We DO NOT offer prenatal massage therapy in the first trimester. Prenatal massage therapy is only offered in the second and third trimesters.
With ANY Prenatal Massage, we recommend consulting with your Physician before making your appointment.
If your Physician considers your pregnancy to be high-risk, you will need to provide a note from your doctor.
All clients will need to fill out a waiver before their Prenatal Massage.
Sports Massage
For athletes of all levels, Sports Massage incorporates many different massage techniques, including stretching. There are many benefits of Sports Massage such as removing lactic acid build-up, aiding in faster recovery from an injury, enhancing athletic performance and restoring flexibility.
60 Minutes $95
90 Minutes $135
Hot Stone Massage
The warmth of the sun is felt in the luxurious weight of hot stones placed strategically on your body. The warmth of the stones relaxes tight muscles and eases pain. This treatment helps calm your nervous system and return your whole body to a more balanced state.
75 Minutes $130
Headache Massage
Our headache massage is great for both migraine or tension headaches. The Therapist will focus on the the head, neck and shoulders and work deep into the fascia to work out the knots and release pressure and tension in order to relieve pain.
30 Minutes $55
Lymphatic Drainage Massage
This work employs a light, rhythmic touch with pressure on your lymph nodes to increase the flow of fluid through the lymphatic system. It speeds up the detoxification process and stimulates circulation. This is a specialized technique for maintaining a healthy immune system.
75 Minutes $115
Lavender & Tangerine Aromatherapy Massage
Relax your body and uplift your mind with our seasonal Lavender & Tangerine Aromatherapy Massage. This service includes a Swedish Massage enhanced with the use of aromatherapy. We've combined two of our favorite essential oils to make the perfect uplifting and relaxing combination!
Lavender's floral, soothing aroma will help you drift in a deep relaxation, while Tangerine's uplifting, refreshing citrus scent will clear your mind and boost your mood. Both work together in harmony to enhance your massage with an amazing aromatherapy experience.
60 Minutes $90
90 Minutes $125
Reflexology
Reflexology is a holistic treatment that uses gentle pressure on specific points on your feet and hands to stimulate the nerves which correspond to the organs and systems in your body. This therapy promotes energy flow to improve function, promote healing and relieve stress. Hands and feet are the only areas addressed during a Reflexology session, so there is no need to remove clothing other than socks and shoes.
30 Minutes (hands or feet) $55
60 Minutes (hands and feet) $85
60 Minutes (feet only) $85
One of the best massages I've had in my life, and I travel and have had plenty of massage experiences!

– Catherine M.